Roger Dale Aymar
May 13, 1943 - December 14, 1992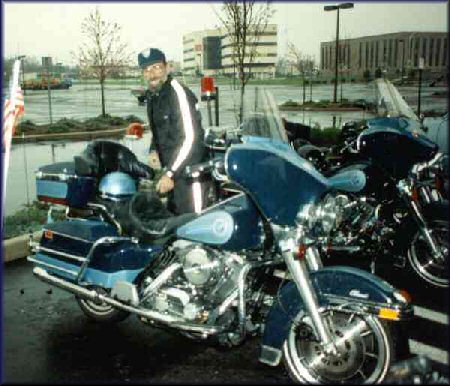 Roger joined NJ II in March of 1976 and promptly took his family to their first International Convention in Dayton, OH. Born in Perth Amboy, NJ, Roger lived most of his life in North Bergen and Secaucus and was introduced to motorcycles early in life because his father raced dirt track with the American Motorcycle Association.
Roger's first wife, Phyllis (Gsellmeyer) and his two children Michele and young Roger could be seen on the back of his motorcycle at various functions all over New Jersey.
Roger's second wife, Barbara (Murray) rides her own bike and toured with Roger to every International and Tri-State Convention from 1981 until his death in 1992. Roger used to tell us he took only six or seven bike
vacations a year. He had planned to retire "west of the Blue Ridge" but a sudden bout with cancer took his life at 49. Barbara is an active member of NJ II and is currently riding his 1987 Blue Knight Special and pulling the color matched trailer.
He drove a tow truck. He was an auto body mechanic. You break 'em he'd fix 'em. He made friends everywhere, he was everyone's best friend. A really nice guy with a smile for everyone he met. A kind word, a joke on the tip of his tongue, he kept everyone laughing, and he never, ever passed anyone broken down on the highway. He was a genius with his hands and he had a piece or a part (with him) that would fix your bike or your car and get you running. If he couldn't fix it, he'd take you to somewhere they couldt.
A Blue Knight from CT was delivering a bike to another Blue Knight in VA. It was a Sunday afternoon and he got a flat on the George Washington Bridge. He called his brother in VA to try and figure out what to do. No problem, his brother gave him Roger's phone number. Roger rode out to meet him, gave him the tires from his utility trailer and
sent him on his way. Everyone was his friend, even if he hadn't met him yet.
When we escorted him to his final resting place he was dressed in Blue Knight blues. Eighteen bikes, a tow truck, a fire engine, seventy private vehicles. The Secaucus Police did a rolling road block on Route 3, every town
between Secaucus and Paramus shut down the road for his hearse. He was a great guy, we had a lot fun together, the man was priceless.
Ride free in Heaven I dear friend, we will meet again.
Joe King, President, New Jersey II