Edward G. Hanford
Entered Heaven One on May 22, 2007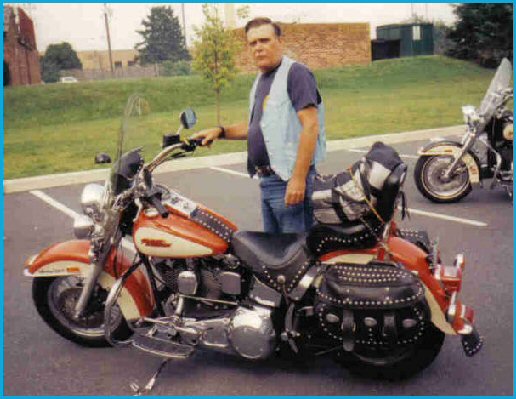 Ed was a life-long resident and retired police Lieutenant from West New York PD. To call Ed merely a "long-time member" of NJ2 in an injustice; he was a member of our Club for over 30 years! Fifteen years ago, Ed's life changed suddenly. He had just been promoted to Lieutenant and was settling into his new command, when the love of his life, Mary, suffered a life-altering stroke. Faced with the dilemma of in-home care or a nursing home, Ed decided (like a typical civil servant) that HE could do it better! So he put in his papers, gave up his pension increase and retired, in order to be home where his new call of duty awaited.
Throughout his life Ed enjoyed two pastimes: motorcycling and fishing. He rode solidly with NJ2 for many, many years until personal commitments prevailed. And upon leaving law enforcement he gave himself a much deserved retirement gift: a brand new Heritage Softail! Ed would wake up a few times each week at 5am, get on his Harley with his fishing rods, and ride down to the river. His short motorcycle ride and few hours of fishing every week was "his time to relax," Mary said.
Ed suffered a heart attack and was taken from us on May 20, 2007; he was 68 years old.
One of the most genuine, humble individuals that this Club has ever known, he now rides on in Heaven I…where all the rides all glorious.