Michael McCarthy
7/12/1947 - 03/28/2011
BKNJ2 Road Captain

Mac doing what he loved to do....RIDE!

On his JCPD motor
Michael McCarthy was a true Blue Knight. As Road Captain and multiple winner of the Youst Memorial Award, he was what this club was founded upon. He wanted to do one thing, RIDE. He wasn't into the business side of things, he just wanted to get together and go. He always said that before anything else, this was a riding club. Any time, any place he would be there on the blue Harley. A retired Jersey City Police Detective and motor officer he paid his dues after 25 years of service. As our Road Captain he would take us on many a splendid trip, whether it was up into the mountains, down to the Jersey Shore or one of his favorite rides up to Croton on Hudson or West Point, it didn't matter. They all had certain things in common, good friends, motorcycles and more often than not a Dunkin Donuts. He loved this club, he loved his country and he loved his family. Mike was a straight shooter and never beat around the bush. He had a soft spot for kids. He volunteered for years with the Hand-n-Hand program, giving rides on his bike to people with special needs. There are many many stories about the escapades of Mike, whether it was Sabrett hot dogs, AFLAC (including the giant duck), the phone booth in his back yard or tales of the times on the job with the JCPD. There was never a dull conversation with Mr. McCarthy.
Mike was a veteran of the Vietnam War in the US Army serving from 1966-1972. He was a proud member of the VFW and American Legion. He always had our fighting men and women in mind and started several club projects to send care packages over seas to current members of our armed forces and relatives of our club members.
His riding days had been cut short by an accident a couple of years ago and he was on the mend, but he never stopped participating in the clubs activites. He still got out to meetings, dinners, breakfasts and anything else he could get to. He made sure to put his 2 cents in on the discussion board. We often say when someone passes that he will be missed, but in this case he truly will. You do not meet many people in your lifetime like Mike.

We were blessed to have had him in our lives. To his wife Patty and his children we say thank you for sharing him with us, our lives are that much better because we knew a man named Michael McCarthy Jr.
"Hey handsome", may your small DD with a straw in it never go empty or cold and
make sure you have a medium with milk - no sugar waiting for me. Glenn T.


Mac (3rd from left) with the rest of the crew at the JCPD motor squad
(click photo for larger view)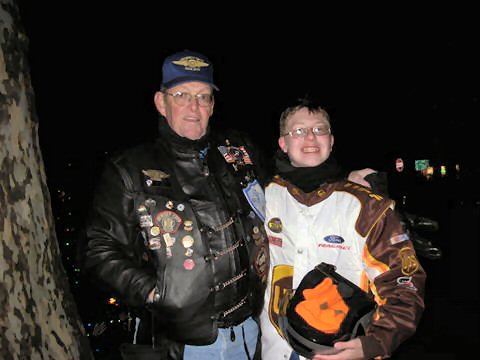 Mike McCarthy (l) & Michael Toepert(r) at the Westwood Christmas Parade. Buddies from the 1st day they met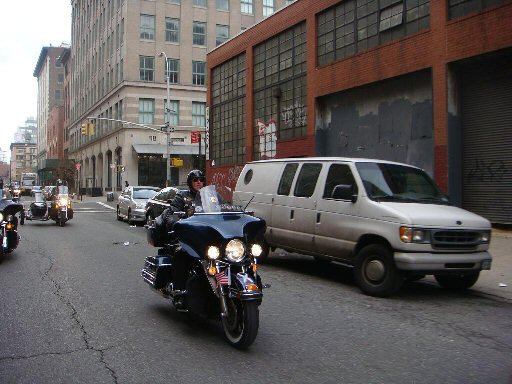 Mike in his element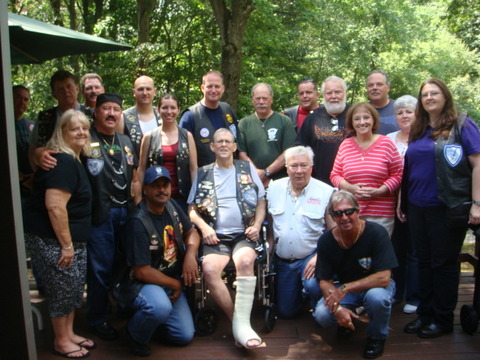 What's a celebration without friends who stop by and surprise you!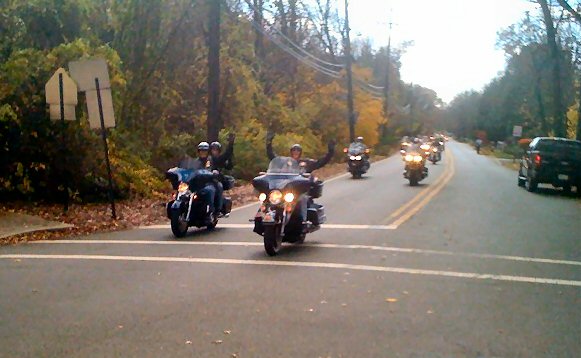 Our leader shows off on a Toy Run
(a sucker for kids)