Stephen F. Scheiner
Special Honorary / Chaplain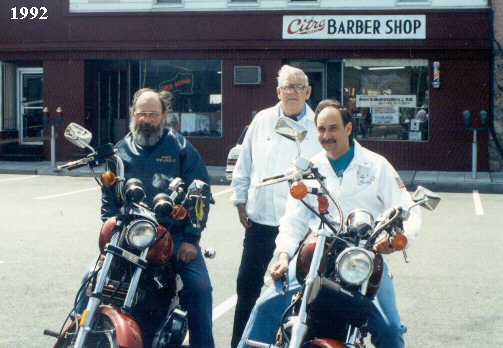 Steve(r) with Roger Aymar in 1992
Entered Heaven One on October 20, 2006
It is with deep regret that we announce the passing of our Club Special Honorary / Chaplain, an honorary member for over 20 years. Steve passed on Friday, October 20, 2006. His last request, relayed to us by his wife, Kathleen, was that he have a Blue Knights funeral and he did. A motorcade of Blue Knights braved the cold to bring their brother home into Heaven One. 14 Knights, including members from NJ3, NY2, and NY18 came to help us out and show their strength. Countless others from Ontario, Tri-State and elsewhere have expressed their sympathies, as we are all one big family, 20,000 strong.
A Blue Knight to the end, Steve went out the way he wanted - wearing his colors, riding in formation with his brothers! The last time a full BK funeral was done in our chapter was nearly 20 years ago for Steve's close friend Roger.
"All I wanted to do was hang on to die a Blue Knight so I can go into Heaven I with my old friends." Steve, enjoy your ride with
Rog, Skip, Big Joe, and James. And while you're up there, say hi to Mikey for us! Ride with Pride!
Michael Manzo
President, BKNJ2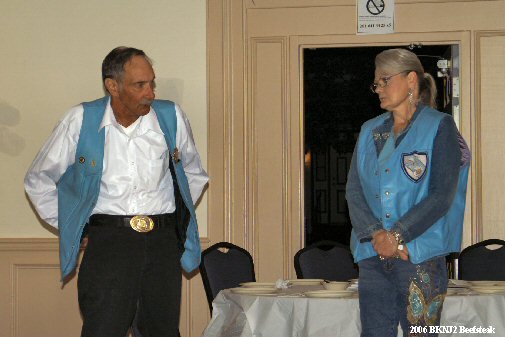 Steve giving the invocation to those present at the 2006 BKNJ2 Beefsteak